AXH House
When we took on the commission to renovate this early 20th century house, located in a historical residencial neighborhood of Madrid, we opted to maintain and preserve the classic spirit of the original house. We tried to provide sobriety and pause with the materials so that the pieces of art from the client's personal collection would gain prominence. In addition, the facade was restored with the use of deep blue as the exterior-interior link, present in the carpentry of all the rooms of the house. On the first floor, with a more social character, unconnected spaces from previous renovations were combined and arranged, and the original staircase was maintained and restored.
Private
Madrid, Spain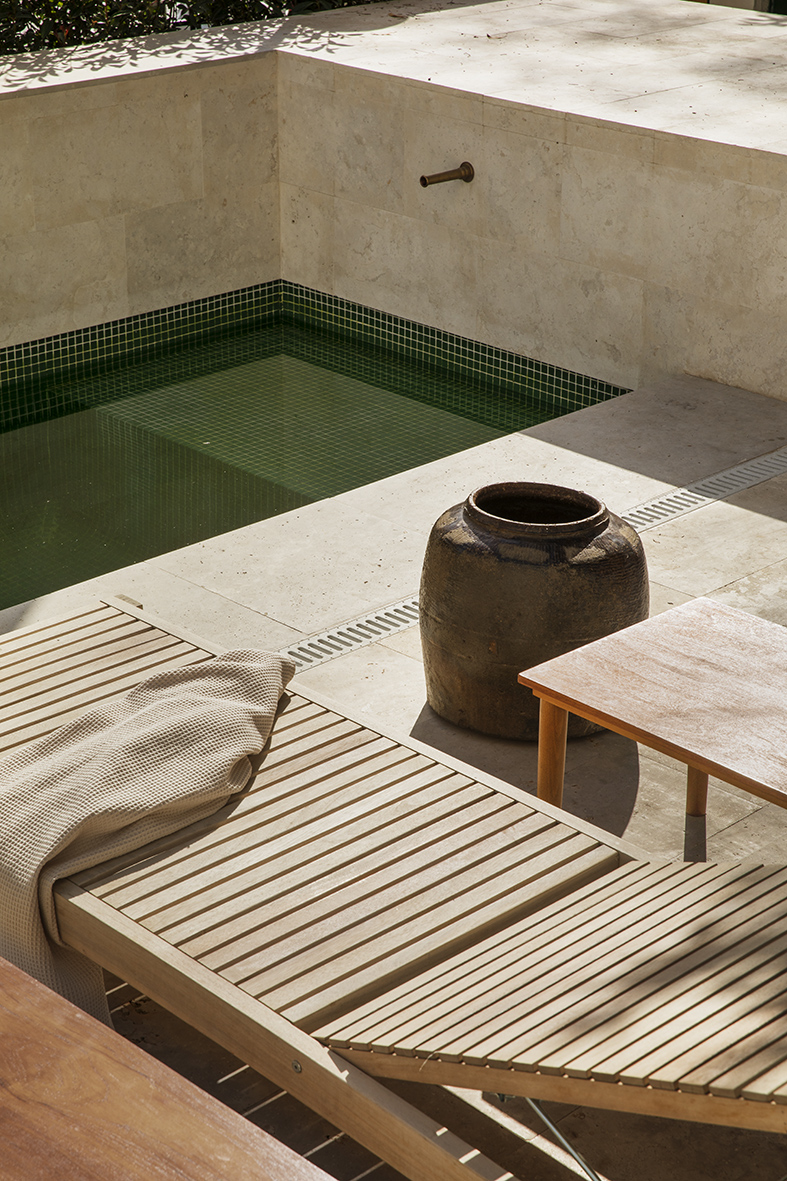 FEC Apartment
This apartment located in the Chamberi neighborhood of Madrid was completely demolished, maintai- ning only the original structure of concrete pillars. To bring order to the area where the structure was more misaligned, we resorted to a central module that contained all the air conditioning and heating ins- tallations as well as the vertical elements of the structure. This wooden module, understood as a piece of furniture, would in turn serve to expand the living area by housing the sofa, to contain and hide the access doors to other spaces, mark a separation between the kitchen and the livingroom and shape the master bathroom ́s sink. As for the materials we have resorted to wood mainly in this module to enhance its volume, also marking its shape in the pavement. Throughout the house it was decided to keep the hydrau- lic tile floor because, although it had to be changed due to its poor condition, due to the type and time of construction it made sense to keep the same type of pavement.
Private
Madrid, Spain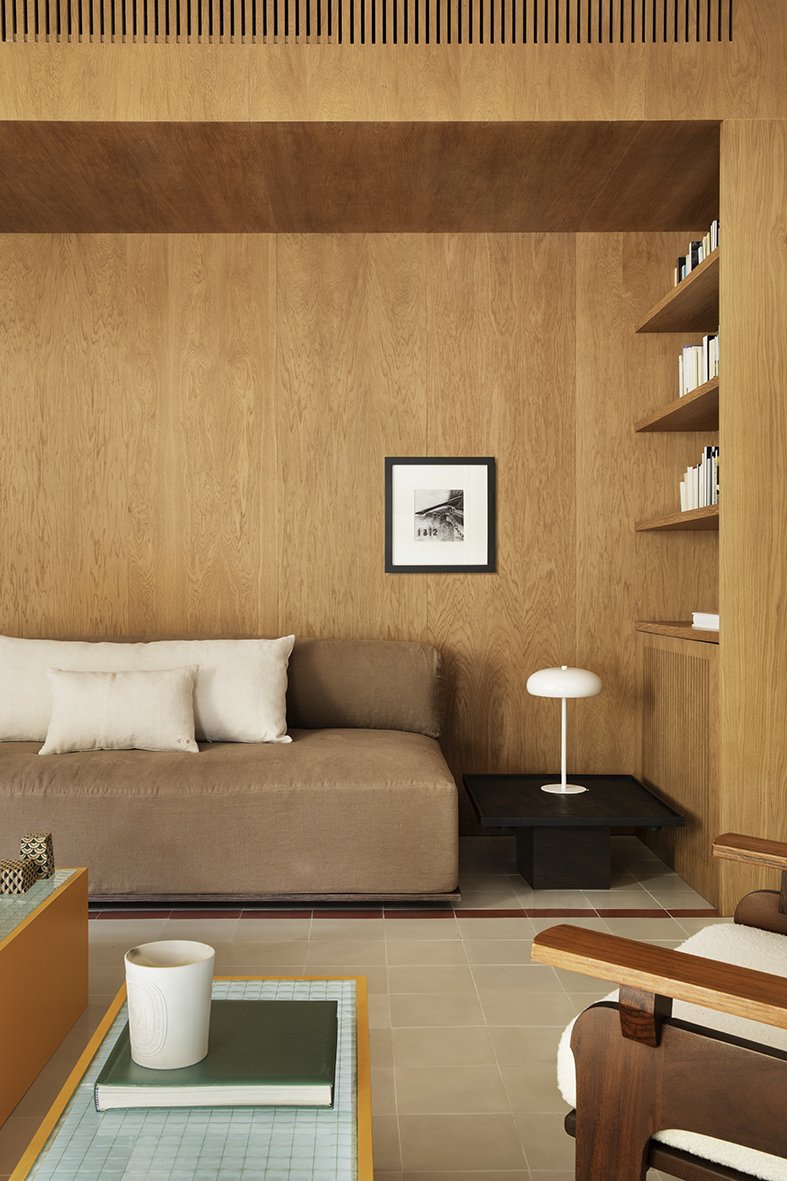 BOS-COS Sevilla
Bos-Cos opens its first establishment in Seville with the aim of redrawing the panorama of tourist flats in the city, with the intention of bringing the concept closer to the traditional boutique hotel. The brief was to divide an old Sevillian courtyard townhouse into four independent flats, so that most of them could enjoy an independent terrace. In order to achieve this within the current legal framework, it was necessary to demolish an entire wing of the house that did not belong to the original construction and to build it from the foundations up. The result is four duplexes, two of them symmetrical and the other two fitted into the old construction. Being part of the building built from zero and the other part a refurbishement of a more than 100 years old construction, the main challenge was to bring unity to the whole. . The tool to get to this was the courtyard where vertical openings, traditional in Sevillian architecture, were forced to help giving rhythm and unity to the whole. The style makes nods to the materials, tones and elements of local architecture, combining it with some disruptive elements that add character and personality to the whole.
BOS-COS
Sevilla
Arquitectura e interiorismo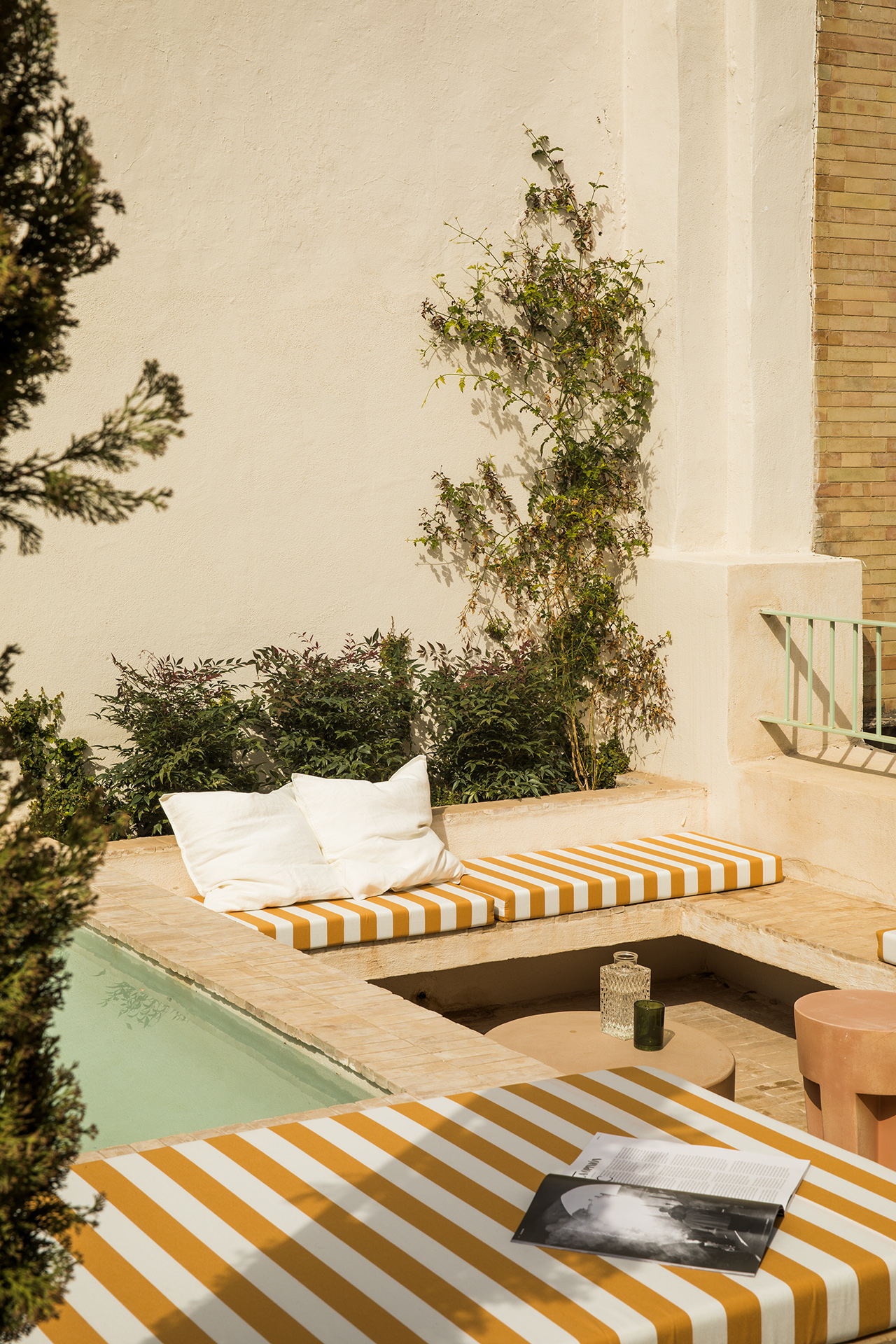 Febrero Studio
In 2022 we inaugurated a new studio in Madrid, in calle Conde de Xiquena 5. This is a comprehensive reform of a classic building in the Justicia district of Madrid, where we have differentiated two large areas, a reception and meeting area, with a more refined and sculptural character and the work area, differentiated by a more friendly and domestic materiality where there is also a space for samples and materials. The service area, where the toilets, kitchen and storage room are located, is in a wing that is totally independent from the office. The total area is 200 sqm that reflect to a large extent what Febrero Studio understands by a friendly, functional and practical workspace.
La zona de servicio, donde se encuentran los aseos, el office y el trastero se encuentra en un ala totalmente independiente de la oficina.
En total se trata de 200 m2 que reflejan en gran medida lo que Febrero Studio entiende por un espacio de trabajo amable, funcional y práctico.
FEBRERO STUDIO
Madrid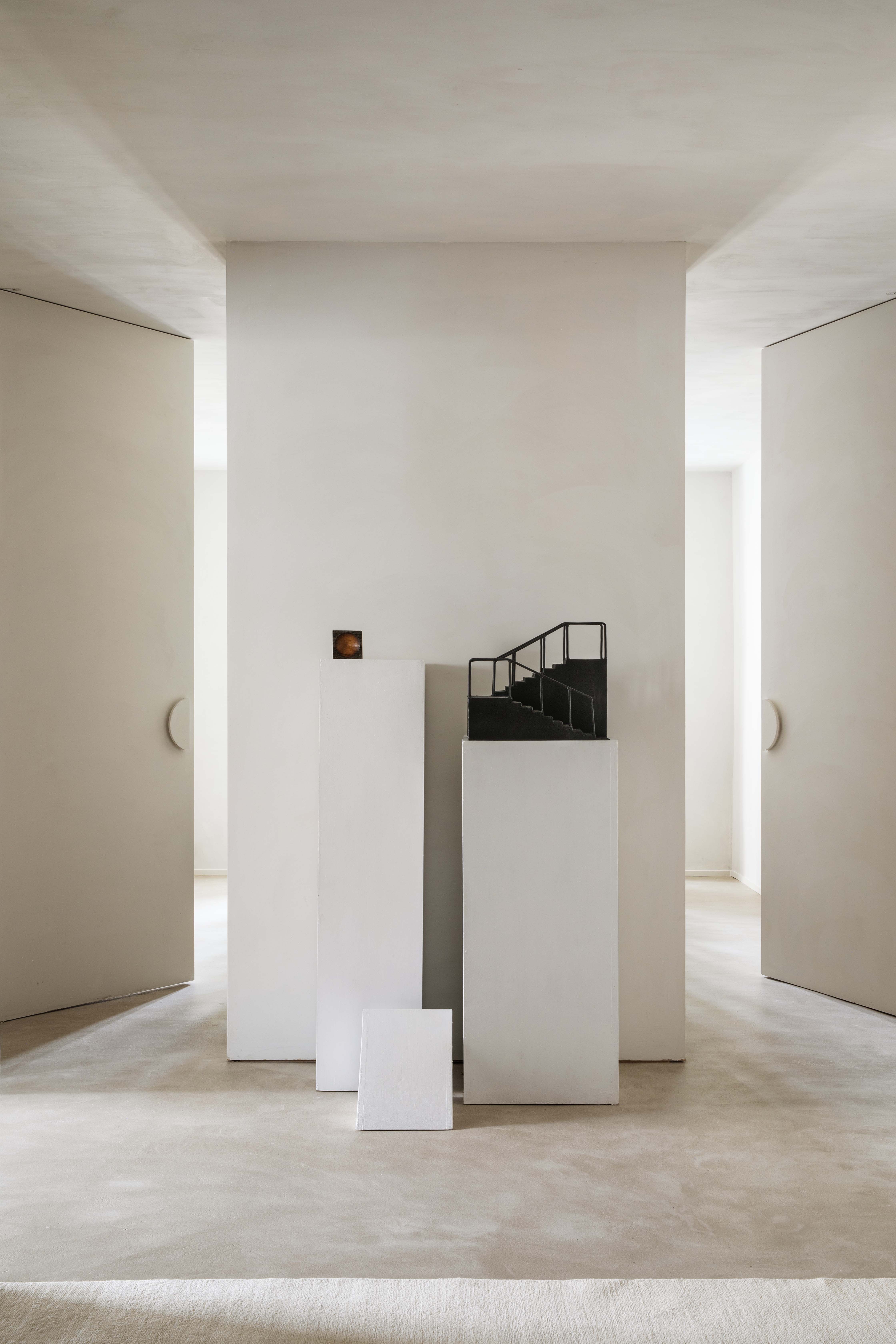 MS7
Complete refurbishment of a 250 m2 house on the fourth floor of a listed building in the Chamberí neighborhood of Madrid. The house is demolished in its entirety except for the load-bearing walls and the new program requirements are adapted to the existing openings in said walls, as well as to the damp cores of the house. The kitchen is located in a central position and is designed as an element of passage and separator between the public and the most private areas of the house. All the old moldings as well as the wood windows are respected and restored. The selected materials and furniture seek to renew the space without losing its essence and character.
Private
Madrid, Spain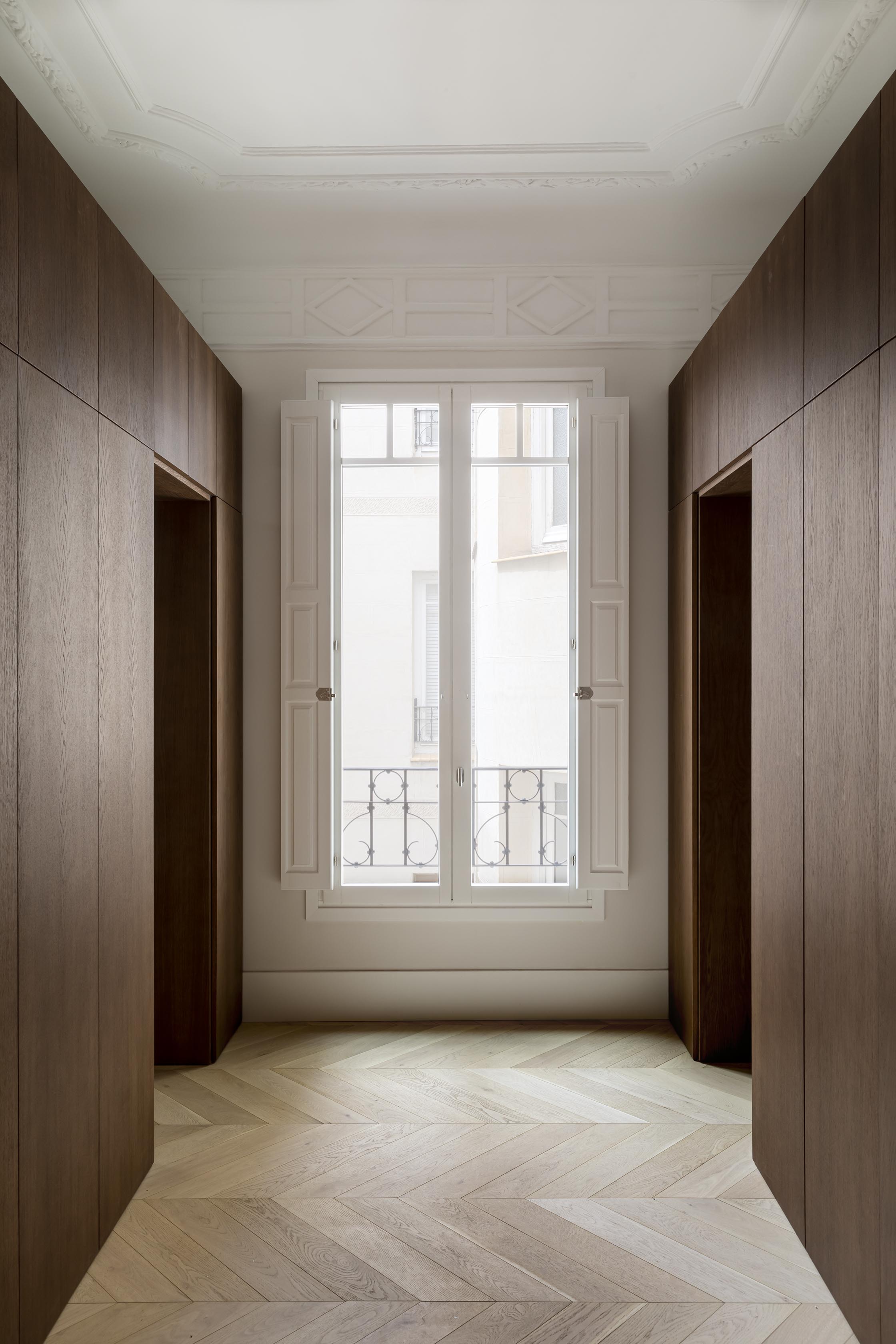 NOMAD
Reforma de interior y estudio de imagen de marca para Nomad, un yate italiano modelo Mangusta 108. El objetivo era optimizar el espacio trayendo la idea y el confort de un hogar a la escala marítima. Para esto se ha reorganizado la distribuición del salón de manera a garantizar una buena tertulia que incluyera bar, comedor y ambiente de estar. En general los acabados originales de las ultimas reformas fueron sustituidos por materiales mas suaves, lo que ha resultado en ambientes mucho más cálidos y calmados.
Private
Ibiza, España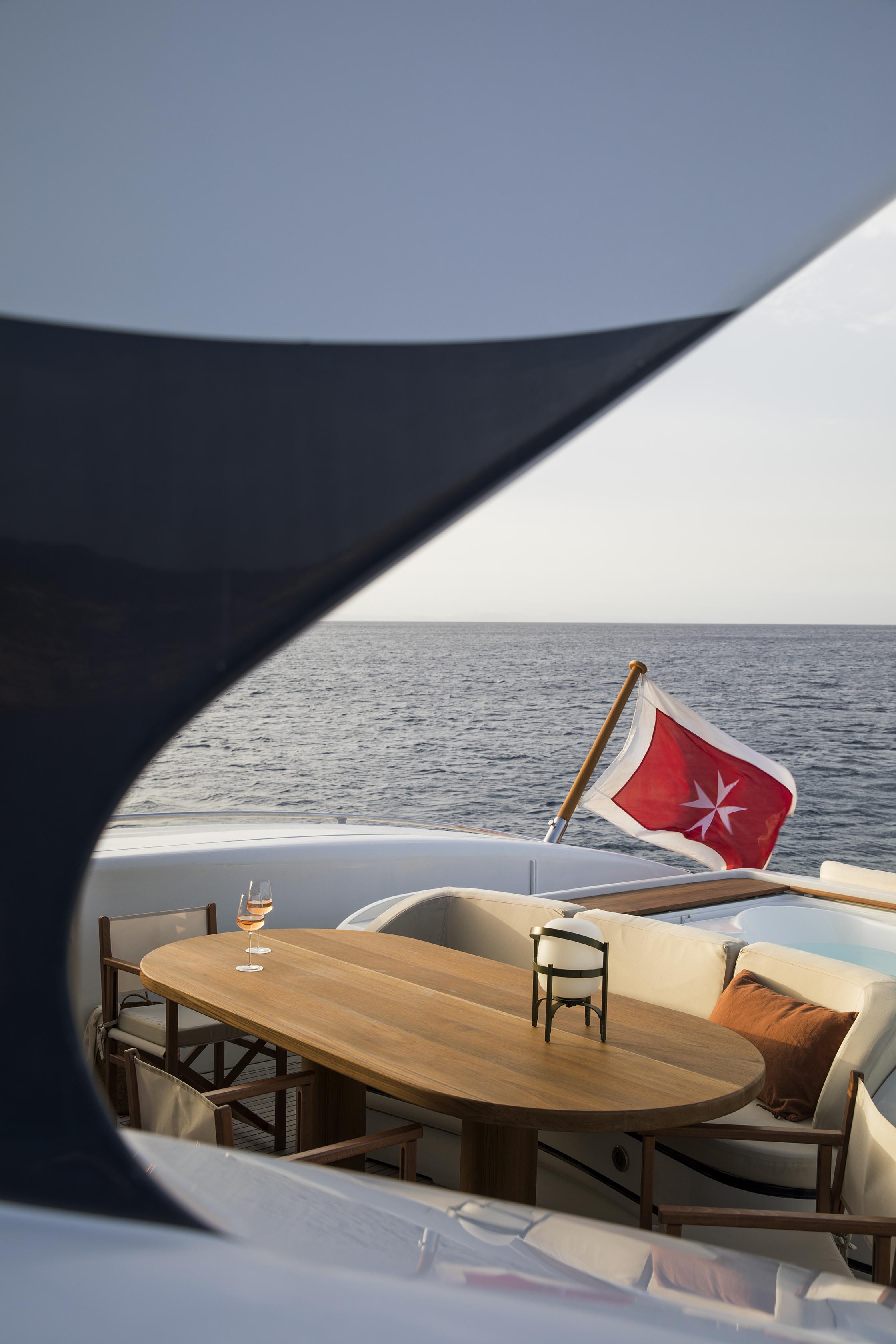 Casa JMA
Reforma integral, con una ampliación parcial de obra nueva, de una vivienda antigua de la que sólo se mantuvo la estructura de muros de fábrica de ladrillo existente. La vivienda se articula entorno a un corredor semipúblico de acceso, que divide la zona de día, en una cota inferior al nivel de la piscina, de la zona privada, a una cota más alta, donde las habitaciones y baños se distribuyen volcando al jardín. Una superficie construida de 300 m2 a la que se suma un pequeño pabellón de invitados, donde todos los espacios se han concebido para la pausa y el descanso, sin estridencias y basándose en la pureza delos materiales empleados.
Private
Marbella, Spain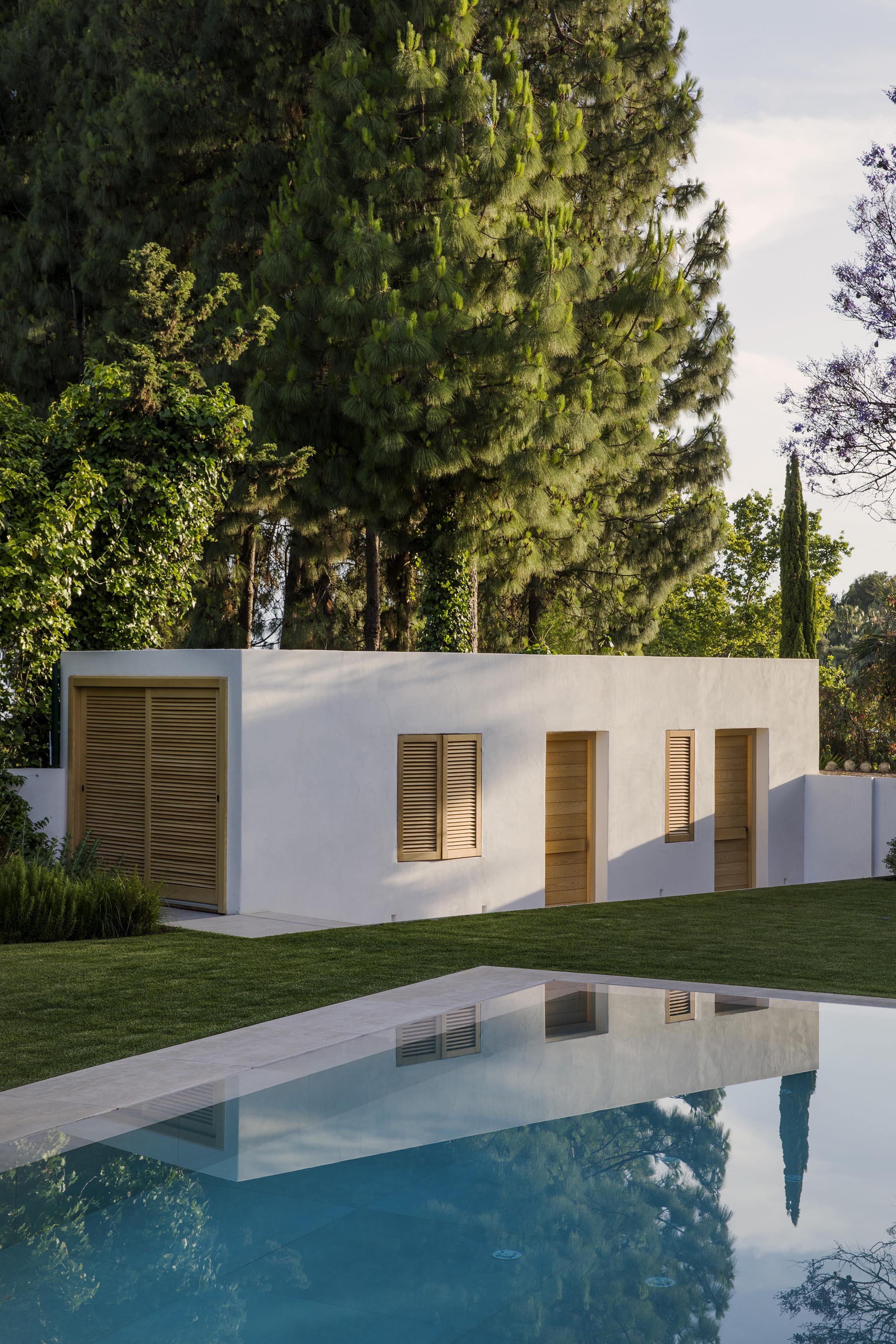 Paisana
Paisana is a healthy-bistrot concept, homemade food based on local products, which opens its first restaurant in Marbella with the idea of continuing its expansion in the near future. The restaurant is located in a space with panoramic views facing the mountain of La Concha and the sea. The restaurant includes a kiosk that serves the outdoor terrace. Materials that evoke the earth and the countryside have been used, also providing details that brings the concept closer to a bistrot.
Public
Marbella, Spain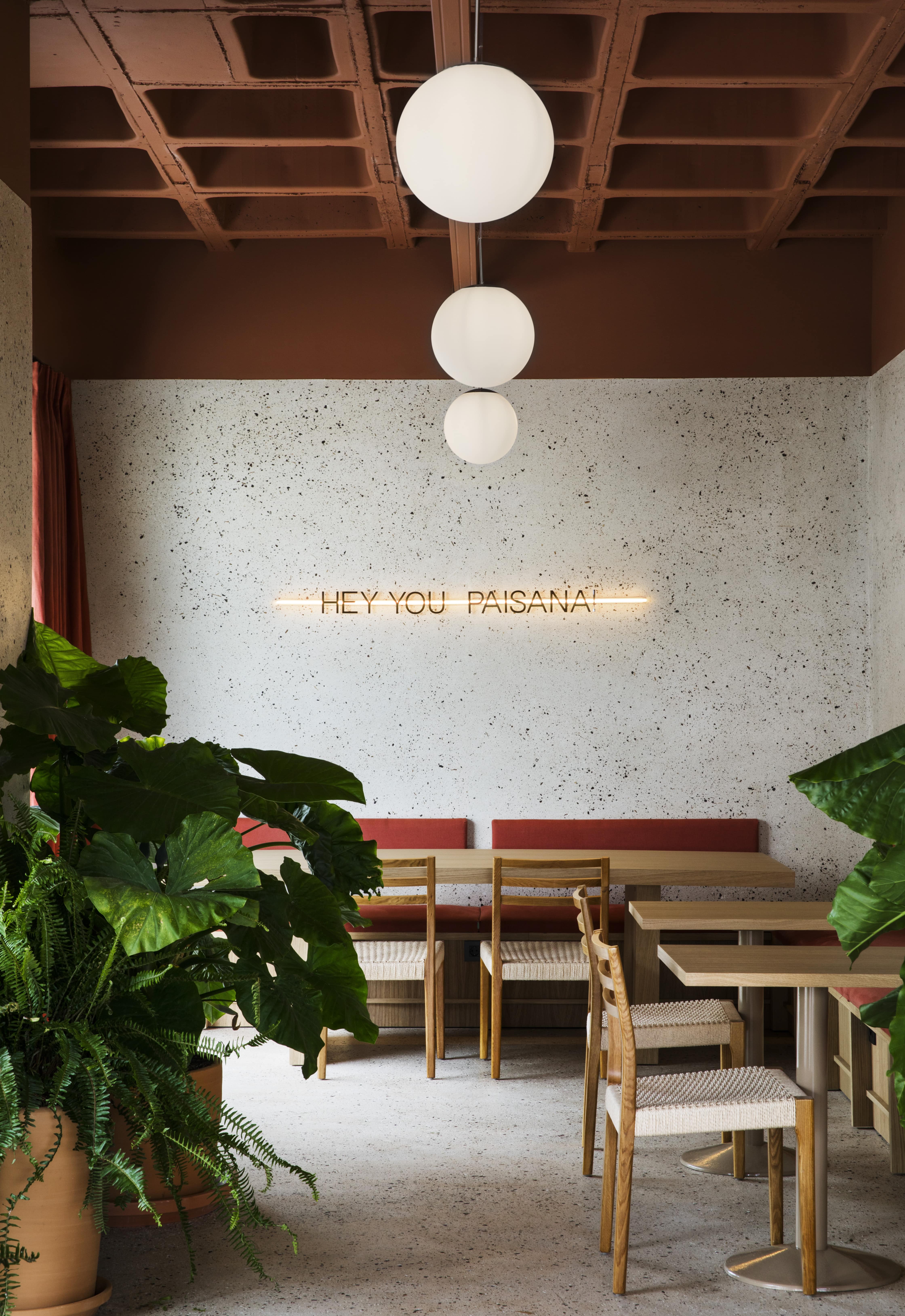 Clínica Durán
The project for Clínica Durán, a Dentistry and Aesthetics Clinic located in Madrid, is based on functional and pro- grammatic rigor, but with the clear and fundamental objective of creating a welcoming and warm space without losing the aseptic character that should prevail in healthcare environments. In terms of program, character and materiality, the project is divided into two different spaces: the reception and waiting area and the clinical area. The reception is located in the area where there is a double height, with an urban carater that welcomes customers in a warm environment, where vegetation and stone pavements have been included as if it would be a private extension of the urban space. A two-story "façade" of ribbed glass and wood separates the clinical area, which is accessed through a single archway that marks the clear change in materiality of the office area. The four cabinets, the sterilization room and the X-ray room are located on the first floor, while the upper floor, for private use only, houses the storage rooms, offices and staff service areas.
Clínica Durán
Madrid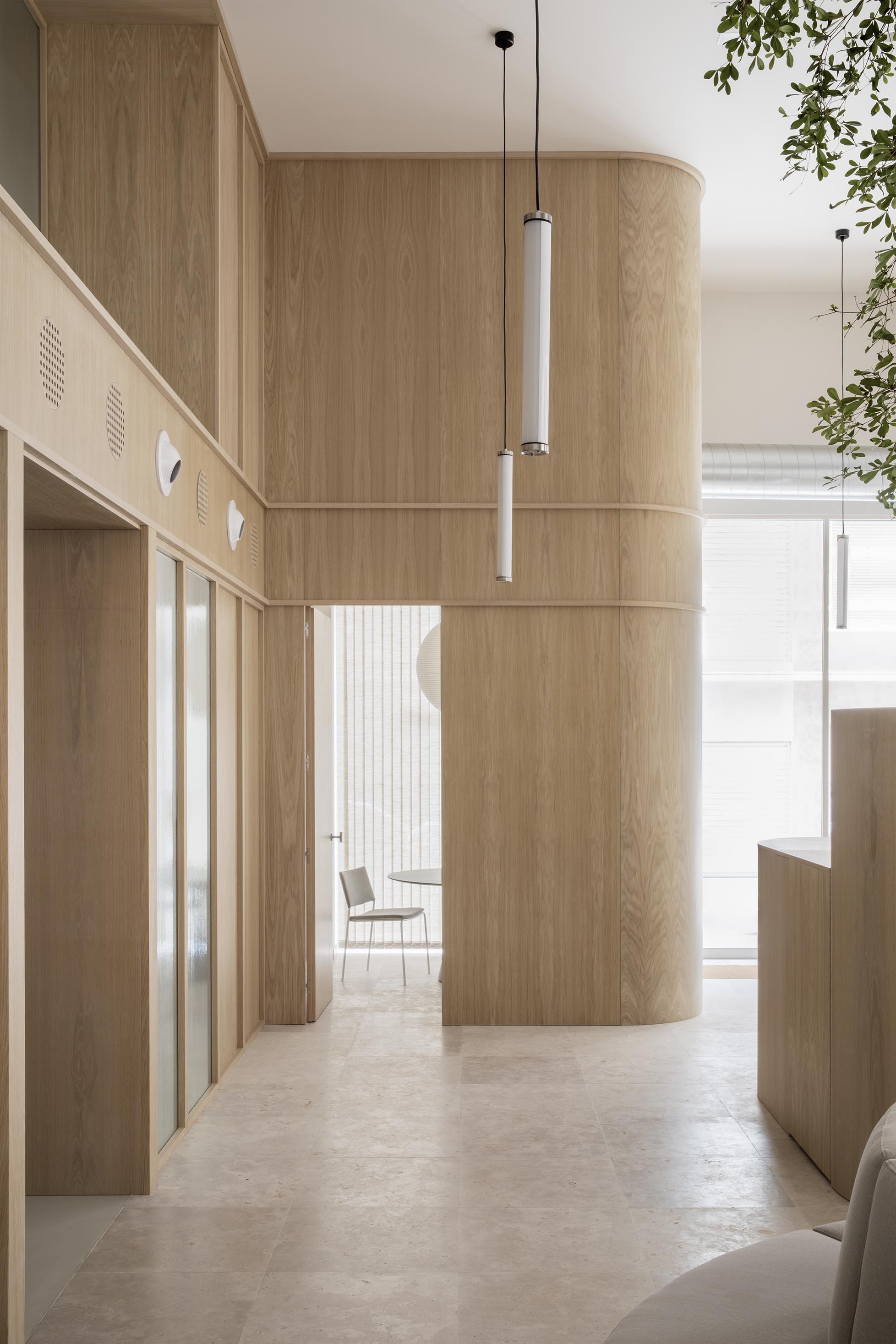 VH Apartment
Reforma integral de un apartamento de 200m2 situado en el barrio de Chamberí. Este proyecto ha seguido un interesante proceso creativo donde los cambios en la planta existente y la incorporación de nuevos elementos ha supuesto un cambio radical en el espacio. La clave ha sido la selección de materiales especiales para los elementos más singulares del proyecto. Se plantea una separación potente entre los dormitorios y el área publica de la vivienda, de manera que con un potente paramento azul se separan estas dos zonas. Esta pared azul contiene todas las puertas al resto de estancias de manera semioculta. Dos elementos almacenadores exentos, de acero inoxidable, articulan el resto del espacio y sirven como elemento protector de las zonas de dormitorios. Uno de estos muebles contiene parte de la cocina y el otro un mueble bar. El pavimento también cambia al atravesar esta pared azul de manera que pasamos de la madera, más noble para la estancias diurnas, al microcemento de las habitaciones que nos permite tener continuidad de pavimento en los baños.
Private
Madrid, Spain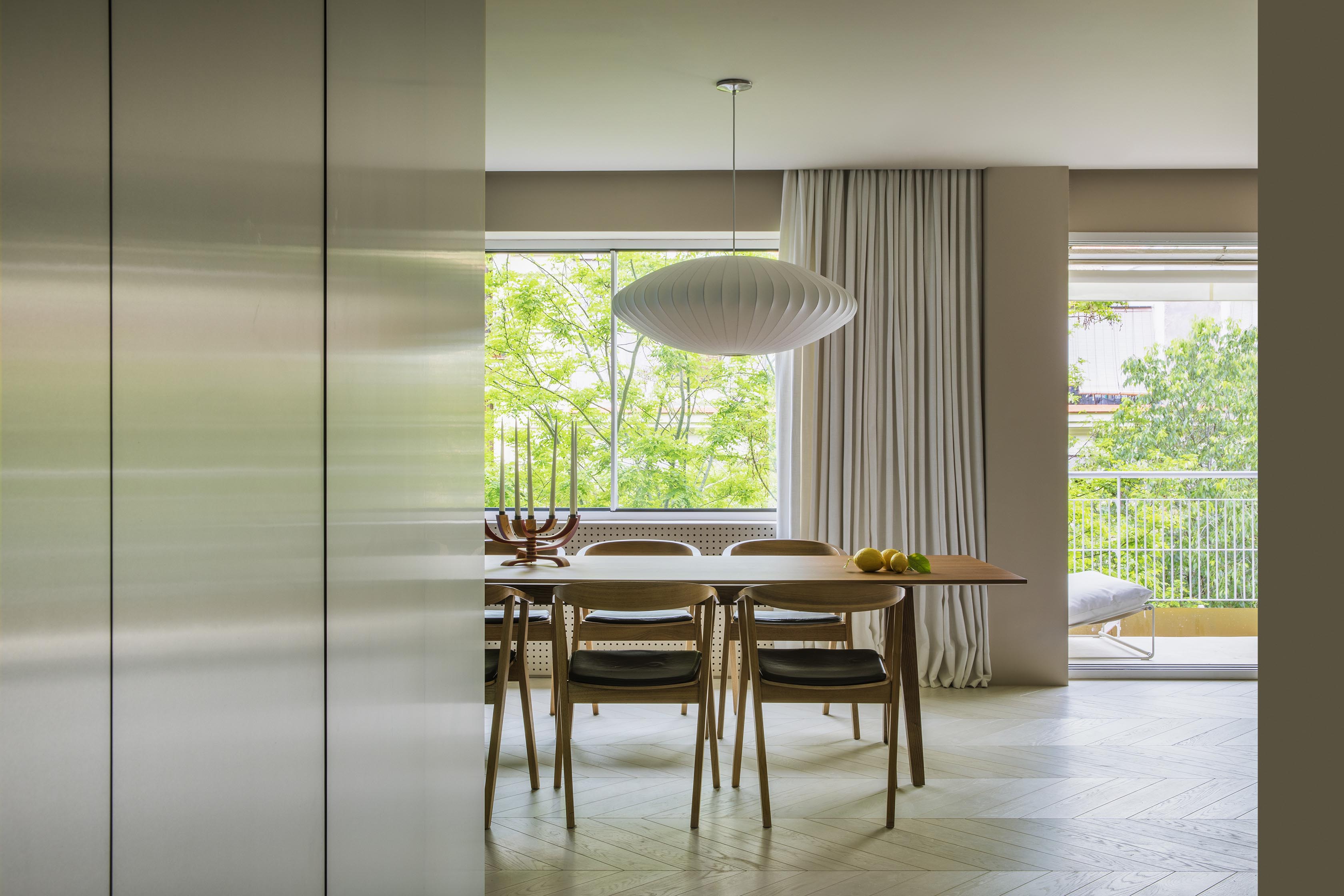 BYM
Complete refurbishment of a duplex penthouse in the historical district of Chamberí in Madrid. The dwelling is divided with war- drobes and doors in warm materials as glass and wood. The so- briety of the project given by the different materials and furniture make this big home a cozy place to live in.
Private
Madrid, Spain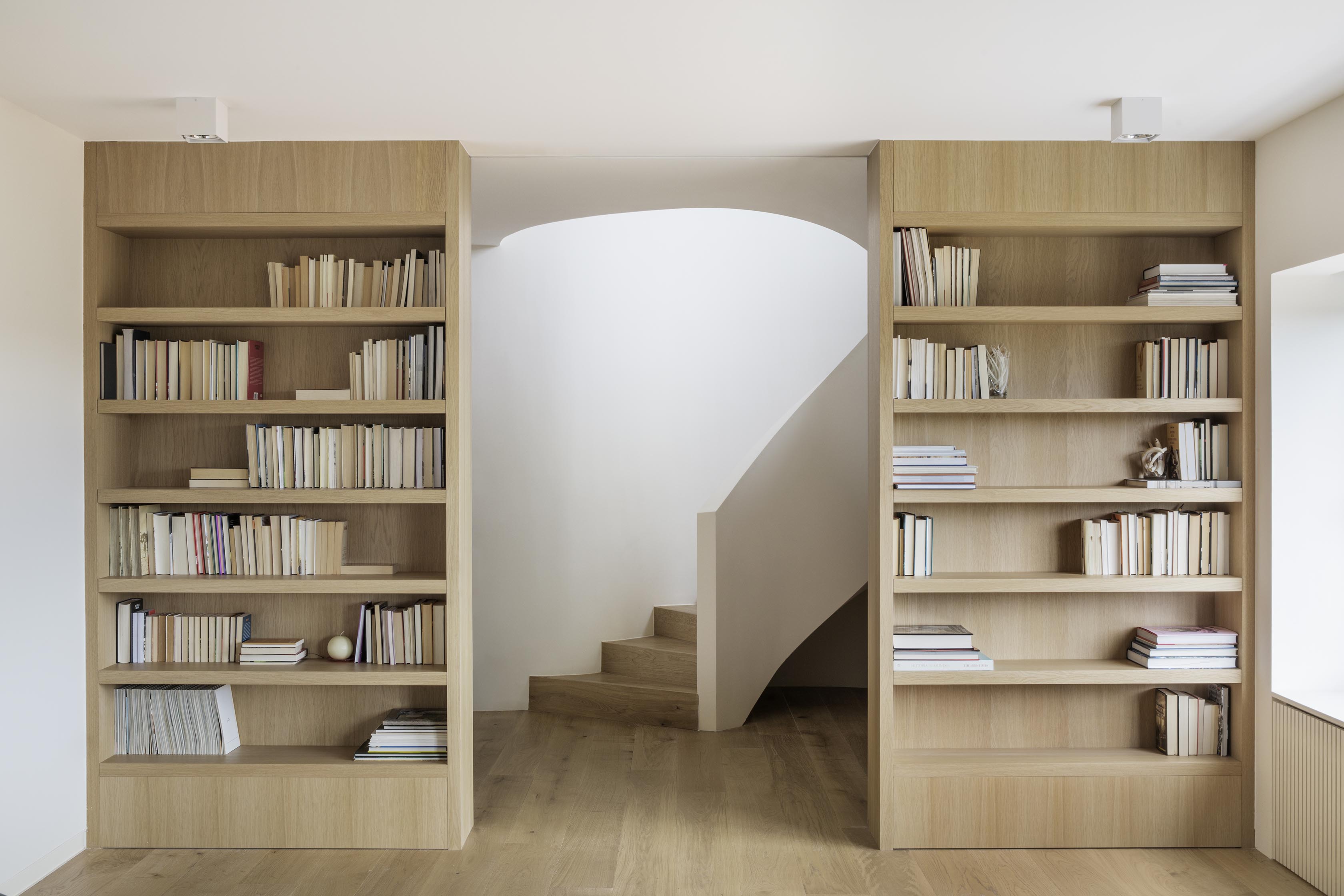 Lighthouse Photo Agency
Oficinas Lighthouse en la Gran Vía de Madrid. Las oficinas de la agencia de fotografia y modelos constan tanto de zona de trabajo y despacho para sus trabajadores como una sala de espera y reu- niones para conferencias y un dormitorio para estancias puntuales para modelos y fotógrafos. Las tonalidades que se emplean en la oficina le dan sobriedad en un ambiente con molduras y carpinte- rías originales. Se mezcla la madera con textiles en cortinas, alfom- bras o mobiliario.
Lighthouse Photo Agency
Madrid, Spain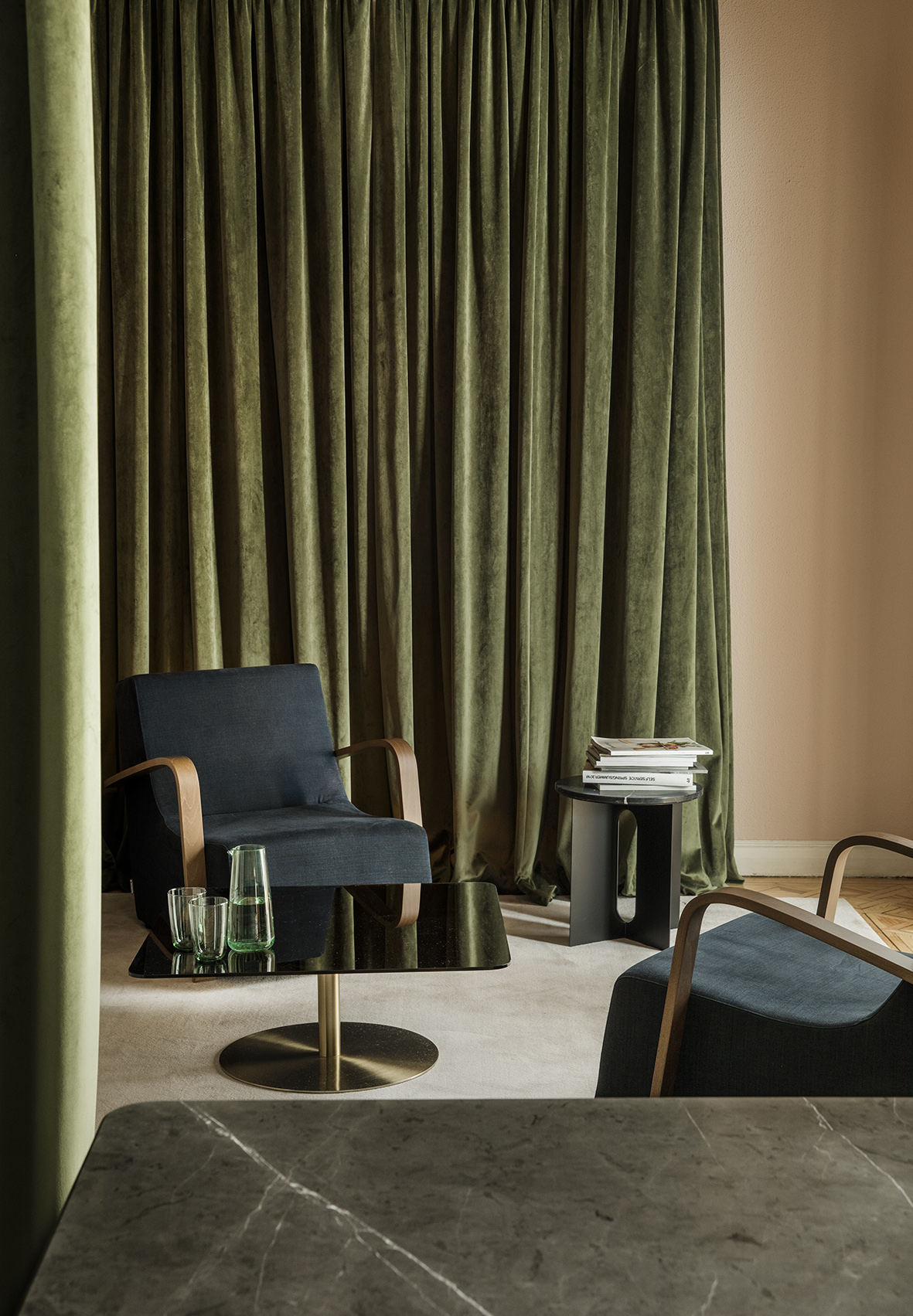 Socios.com
Socios.com aimed, for its new headquartes in Madrid, an office style that represented the spirit of the brand. The intention was to maintain a sober style but incorporating some elements that allowed to soften the seriousness provided by the chosen materials and corporate colors, also subtly approaching the world of sports. The privileged location and views of the space, overlooking the Plaza de España in Madrid, led to position both offices and open office area along the façades, while the rest of the program is contained in two defined volumes, which completely ignores the structure of the building helping to generate unexpected circulations that help the program and the functionality of the office.
Public
Madrid, Spain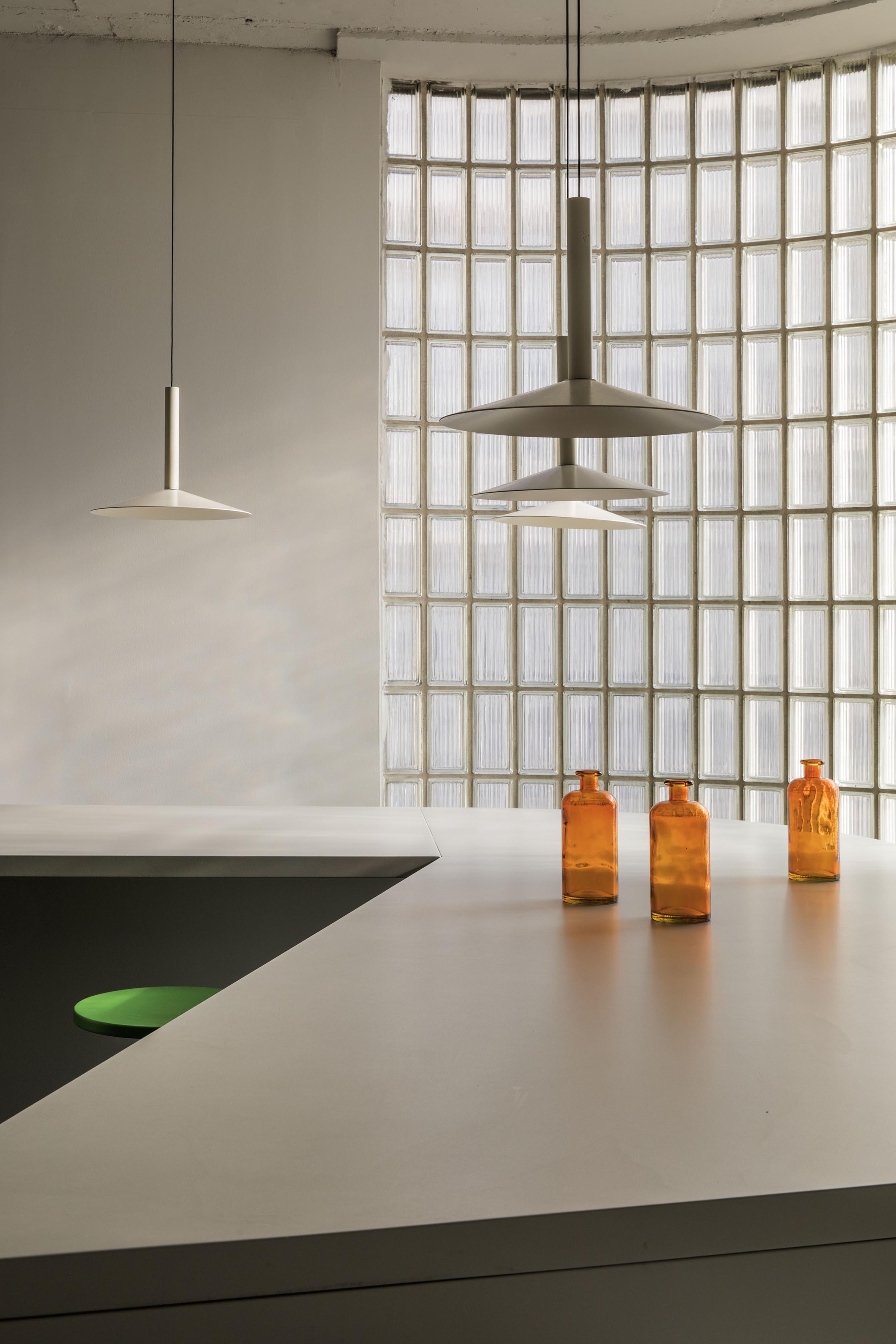 QEP Madrid
Vela Energy ́s office is located in a protected building in Jenner street, in the neighbourhood of Chamberí. The project follows our previous project for 4th floor and maintains the original aesthetic of the facade bay with the wall and ceiling plaster moldings. The rest of the office plan is fully renovated to obtain an open working space overlooking the central patio, and some private offi- ces surrounding both of these areas.
Qualitas Equity Partners
Madrid, Spain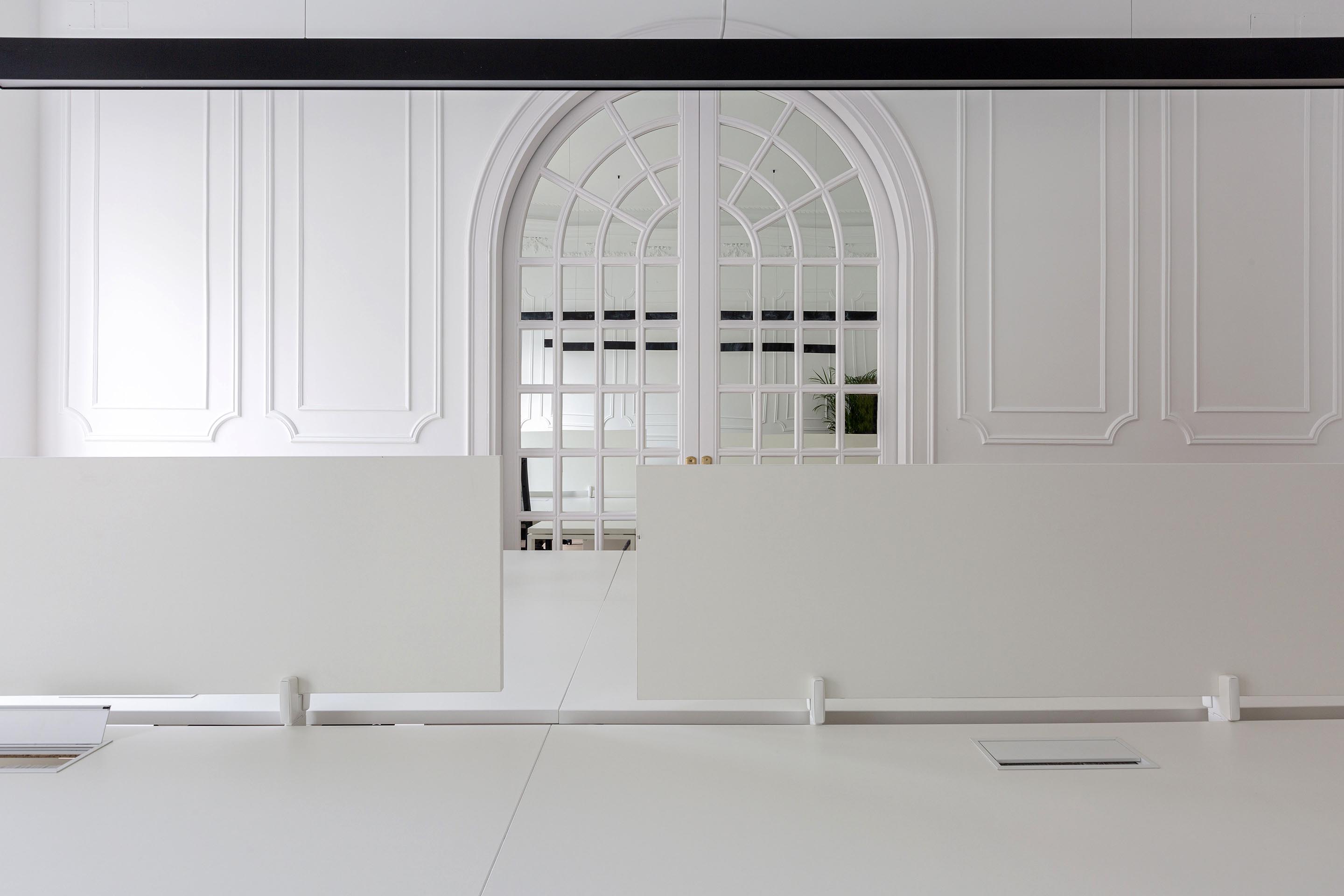 Tresmares
These are the first offices for TRESMARES CAPITAL, financial services provider specialised in high growth SMEs and supported by Banco Santander. Located in Madrid, in Calle Serrano, the office area is 800 sqm and the final layout considers more than 50% of the space for reception, work-cafe, collaborative spaces or meeting rooms. The layout has been designed conditioned by the structure of this old building and always trying to use residual spaces as phone booths or express small meeting rooms. Regarding materiality and always following clients brief, we tried to keep balance between sober materials and corporate red color, using as unifying element the garnet color which is present all along the spaces in this project.
o de reunión. La distribución ha estado condicionada por la estructura del edificio y se ha buscado aprovechar los espacios residuales con zonas para llamadas o pequeñas reuniones express. En cuanto a la materialidad, siguiendo el brief del cliente, se ha intentado mantener un balance entre los materiales más sobrios y el rojo corporativo, utilizando como elemento unificador el granate, presente en todo el proyecto.
Tresmares Capital
Madrid, Spain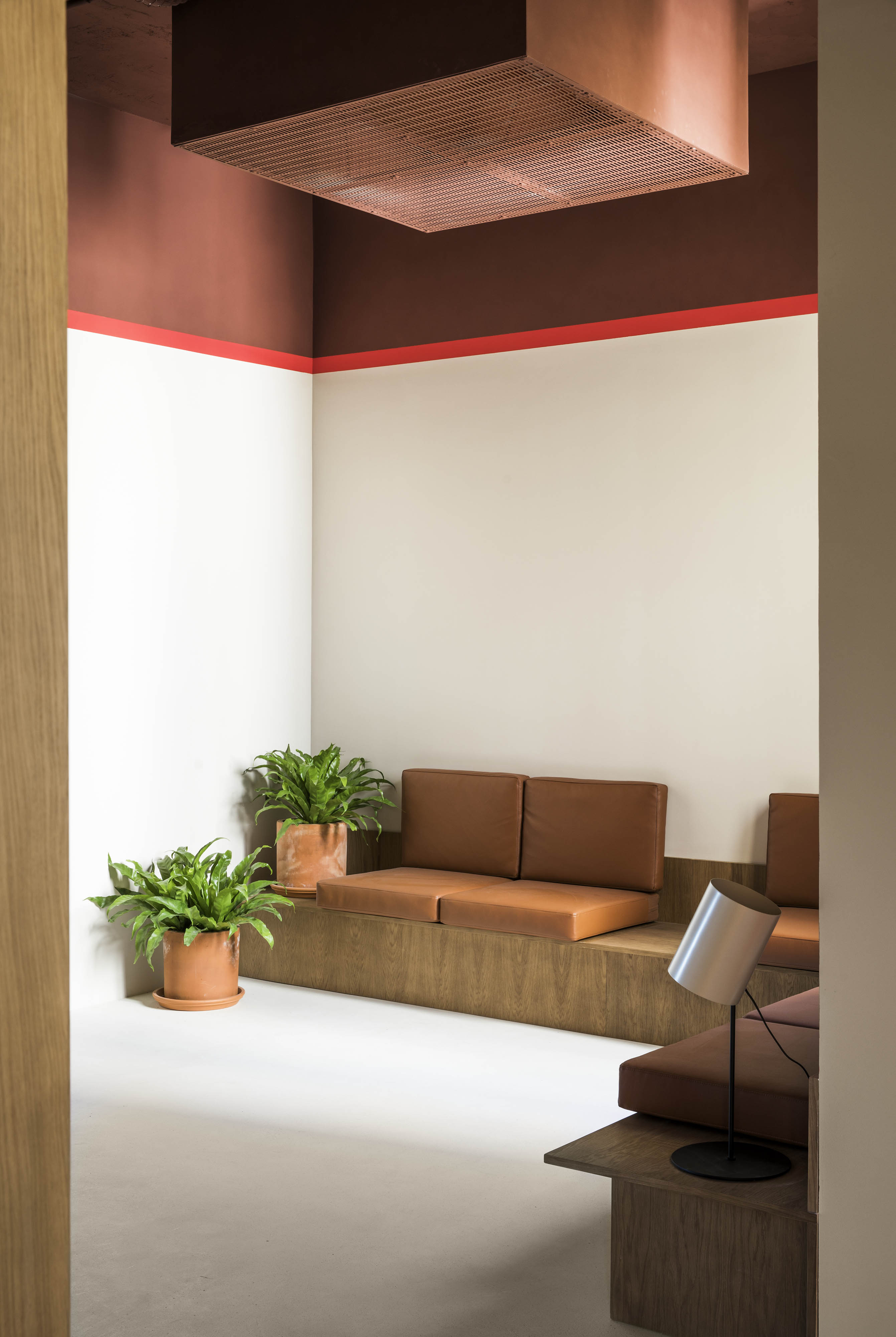 SB23
Located in the heart of Madrid, this penthouse apartment is part of the top floor of a XVIth century traditional building. The client, a foreign investor, gave total freedom to create a special atmosphere for this cosy touristic apartment. The dwelling is renovated with noble wood working as cupboards and separating the different rooms.
Private
Madrid, Spain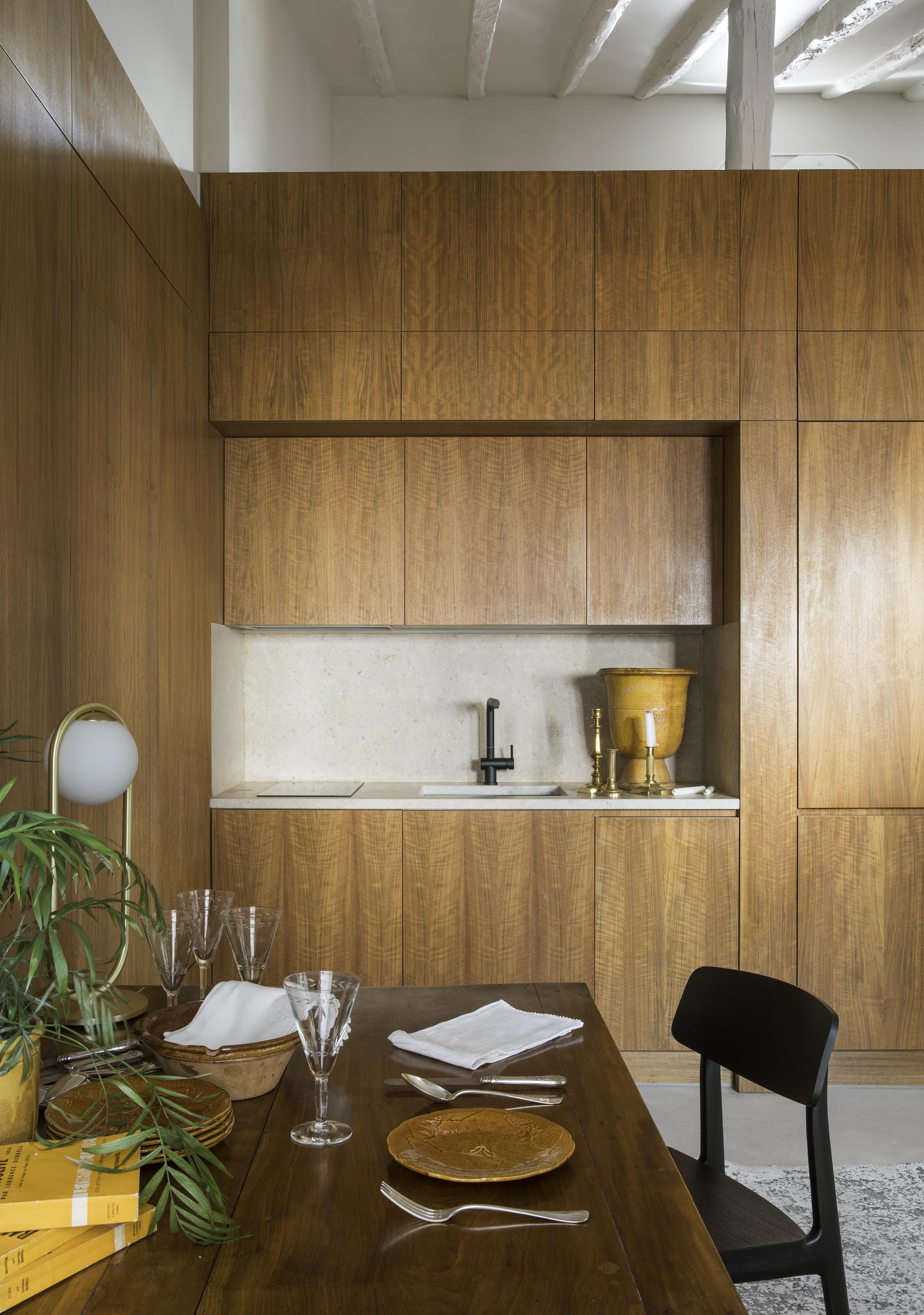 Oquendo
Oficinas en la intersección de dos de las principales calles de Barrio Salamanca, Velázquez y María de Molina. Un mueble de madera equipado hecho a medida articula toda la oficina, dividiendo la zona de trabajo privada de las zonas comunes más públicas, tales como la zona de recepción y espera, 3 salas de reunión y 2 salas de llamadas. En las salas de reuniones se emplean mamparas de vidrio acanalado para otorgar al espacio común ligereza y luminosidad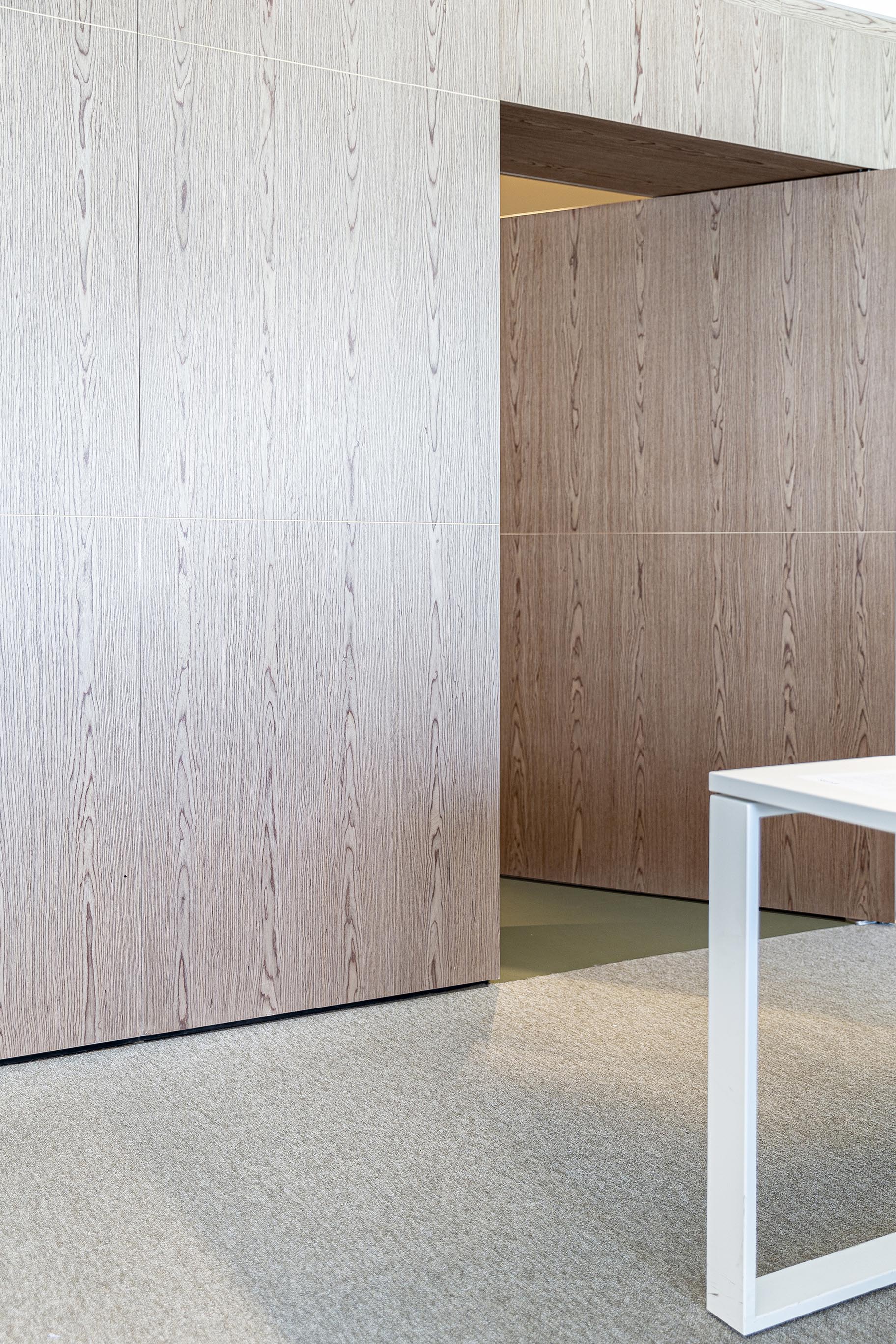 Check24
Check 24 está considerada como la mayor "startup" alemana. La sede en Madrid es su primera oficina fuera de Alemania y se ubica en un edificio de oficinas en el Paseo de la Castellana. El proyecto es de planta abierta. Los puestos de oficina, comedor y office vuelcan a las fachadas acristaladas mientras que en la zona central se concentran la recepción, las salas de reunión, aseos y otros usos. Le malla metálica estirada se convierte en material protagonista de este proyecto, sirviendo de unión entre la calidez de la madera y el frio azul corporativo.
Check24
Madrid, Spain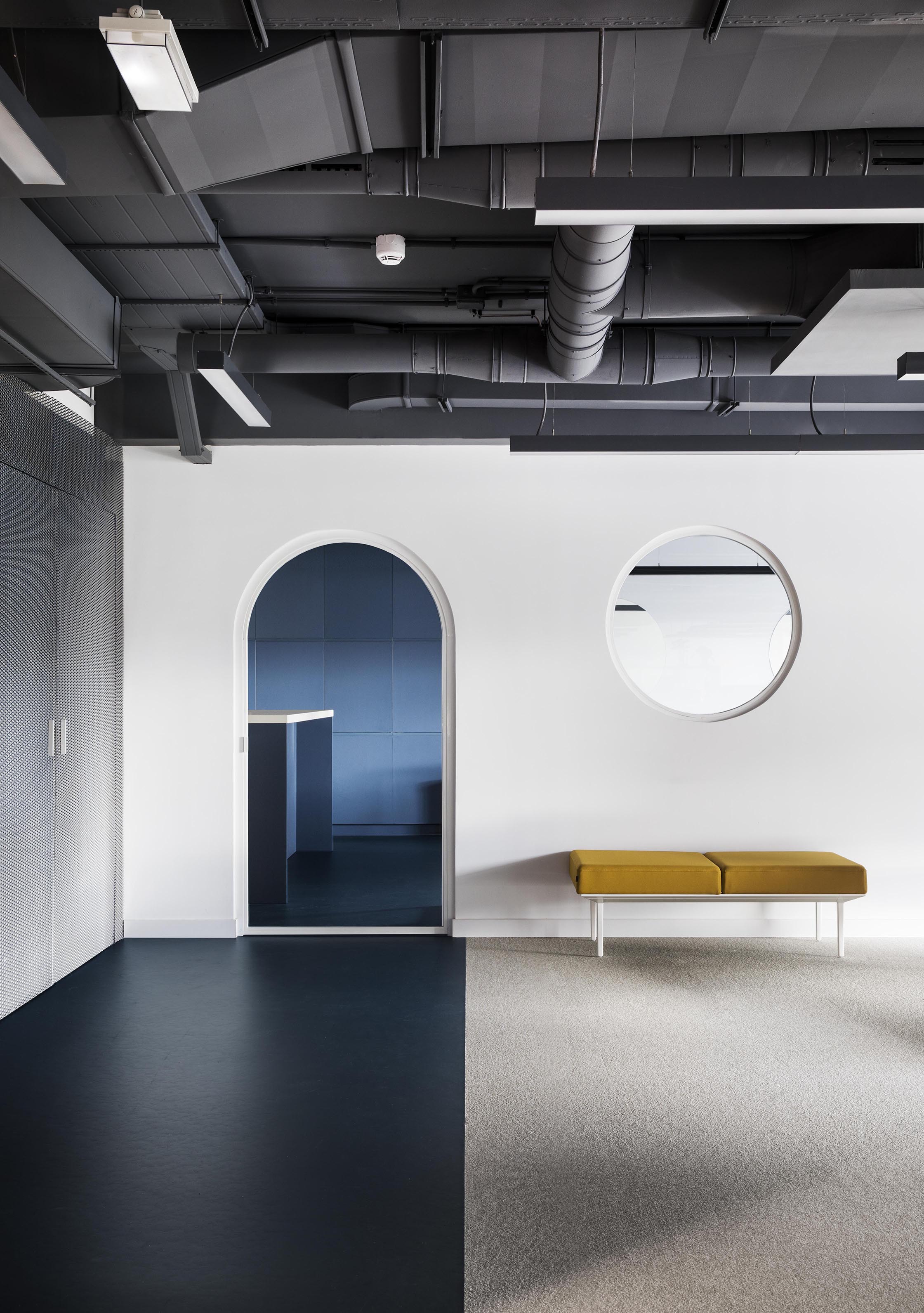 DL35
Este apartamento está ubicado en el barrio madrileño de Salamanca. El proyecto se diseñó junto con el estudio de Patricia Urquiola en Milán y con la artista Mónica Sanchez Robles. La planta fue totalmente redistribuida resultando una cocina abierta a la sala de estar. Se dejó vista la estructura metálica existente como elemento ornamental del proyecto.
Private
Madrid, Spain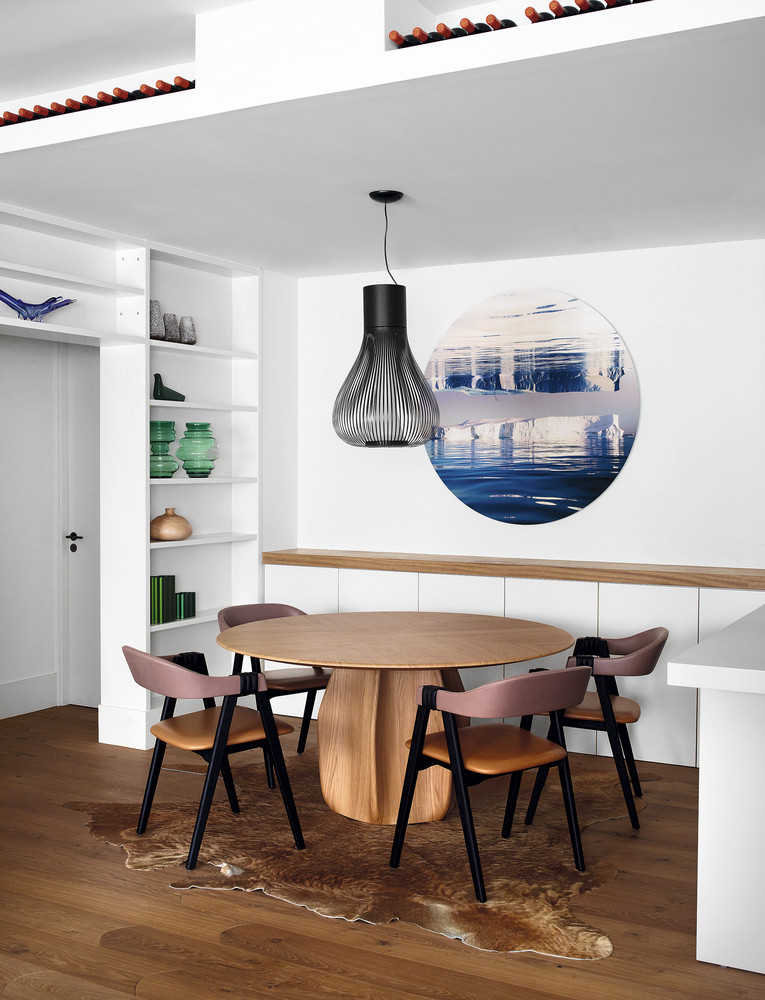 Goya Penthouse
This Penthouse apartment is located in the Madrilian neighborhood of Salamanca. Two terraces are the big attraction around which the apartment is developed. Light and space are generous.
Cliente privado
Madrid